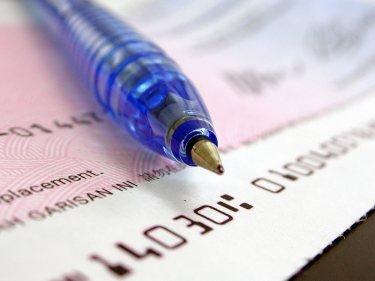 Security features to protect your cheques against fraud!
At Jet the security of your cheques is top priority. We encourage you to incorporate multiple security features to make your cheques resilient to fraud.
DocuCheck Paper
We use DocuCheck premium security paper for all cheques. With embedded fibres visible under ultraviolet light and five chemical stain reactants to prevent data manipulation, DocuCheck Paper provides a high level of security. Also available is a distinctive "chainlink" watermark visible in transmitted and reflective light as well as Tonerfuse Coating which anchors toner to resist alteration by tape pulling or scraping.
Microprinting
This is miniature print or text incorporated into the signature line or border, verified by a magnifying glass. Copying or scanning will make the Microprinting appear plugged.
Bleed Through MICR Numbering
The MICR number goes through so it is visible on the back side of the cheque thus verifying authenticity. 
Security Bands
This band advises which security features are incorporated into your cheque.


For information or quotation:

Call Jet Customer Service:
905-842-5050
Email: